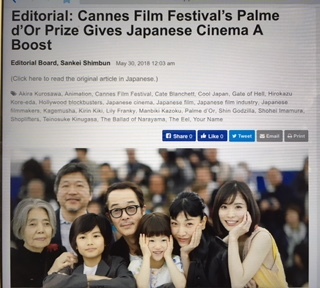 日本映画はあまり見ないのですがアメリカ人の元先生に勧められたので見てみようかなと思っています。
My former private teacher knows a lot about movies, as he recommended some European movies to me recently, and I was able to watch many memorable ones which I couldn't find easily myself.
The other day, he sent me an article about one of the movies telling me that it won the Palm D'or at Cannes this year.
I understand that it's about a close knit, poor family that depends on their grandmother's pension, but they can't help shoplifting because of their situation. He suggested that I watch it one of these days.
Mon ancien professeur privé connaît bien le cinéma. Comme il m'a récemment recommandé des films européens, j'ai pu en voir quelques-uns de mémorables qu'on ne trouve pas facilement.
L'autre jour il m'a envoyé la page internet d'un film me disant qu'il avait gagné la Palme d'or à Cannes cette année.
J'en ai compris que le thème principal était sur les liens des membres d'une famille pauvre qui vit de la retraite de leur grand-mère, mais ils ne s'en sortent pas et n'ont pas d'autre choix que de voler à l'étalage. Pourquoi ne pas le regarder un jour?