うれしい言葉
2018-06-30 05:18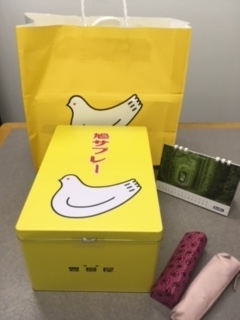 (語学学校のスタッフや講師たちに持って行った鳩サブレ、48枚入りで重たかったです。)
語学学校の受付係をしているスタッフに、Reikoさんのファンです、自分たちみんなそうですよ、と言われうれしかったです。
When I went to my language school the last time, one of the receptionists spoke to me, and said that all the staff there are fans of me.
Maybe the sweets I bring them every time makes them feel like that, or I am much older than them, so they feel that I am like their mother.
Whatever the reasons they have, it was nice to hear it.
The humid summer has just started, it is always an unpleasant period, but cold beer is really tasty indeed!
Quand je suis allée à mon école de langue la dernière fois, l'un des réceptionnistes m'a parlé et m'a dit que tout le personnel là-bas était fan de moi.
C'est peut-être parce que je leur apporte des friandises chaque fois que j'y vais, ou parce que je suis beaucoup plus âgée qu'eux, alors ils doivent sentir que je suis comme leur mère.
Quelles que soient leurs raisons, c'était agréable de l'entendre.
L'été humide vient de commencer, c'est toujours une période désagréable, mais comme compensation, la bière fraîche est vraiment savoureuse.
スポンサーサイト